ERG
ERG vs BRG: What Should I Call My Resource Groups (and Does It Matter?)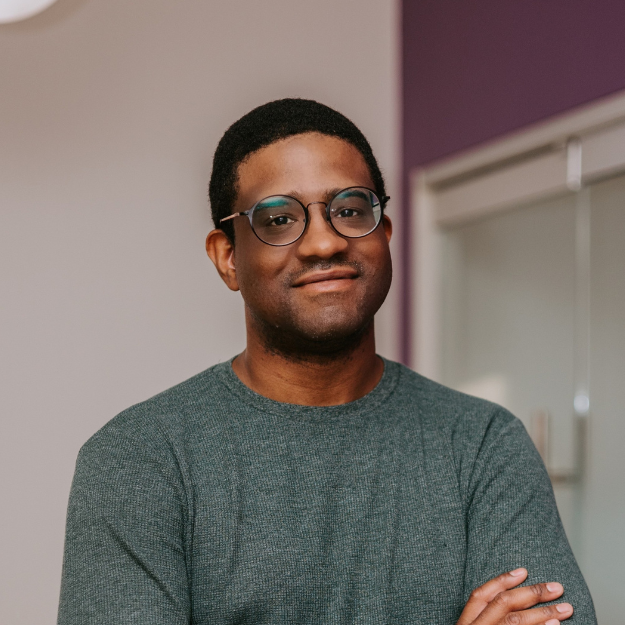 SAM COOK
Senior Content Manager and Employee Engagement Researcher
Jun 8, 2023
What's in a name? HR leaders tasked with starting resource groups for their companies engage in a fairly big task that's further complicated by one of the very first line items: coming up with the right name. It might seem innocuous, but terminology matters in many different ways. How your resource groups are perceived can impact whether employees are eager to sign up for them. An overly complicated or ambiguous name, for example, could give you far more headaches trying to explain the purpose of the groups than you'd expect. While creativity in naming matters, going with ERG or BRG could be the safest option (but it's far from the only option).
In this post, we'll explore why "ERG vs BRG" is a topic that ultimately comes up when companies start creating resource groups. We'll also give you a view into other naming conventions, with some tips for getting the most out of your naming strategy.
What's the Difference Between an Employee Resource Group and a Business Resource Group?
We've written fairly extensively about what resource groups are. These employee-led groups are supported by, but ideally not led by, the companies or organizations where employees work. Resource groups allow employees to connect with others who share certain commonalities or affinities. Consequently, this is why some companies opt to use the term affinity group as a catch-all term for their resource groups, and it makes sense.
What, then, is the difference between an "Employee" Resource Group and a "Business" Resource Group? It comes down to what the core purpose of those groups will be.
Employee Resource Groups (ERGS)
These groups are typically employee-led and are designed to allow employees to support each other's personal and professional groups. ERG members are often able to enhance their career development goals through the interpersonal connections they make in an ERG. These groups also allow them to contribute to the personal development of their peers in the work environment. ERGs often focus on underrepresented groups, such as women, people of color, LGBTQ+ employees, and others.
An ERG will commonly provide space for these employees to connect, share experiences, and advocate for change within the organization. ERGs may even host speakers and in-person or virtual events surrounding topics relevant to that group's target audience. ERGs can also serve as a resource for the broader organization, providing insights and perspectives that can help the company better understand and serve diverse communities.
Business Resource Groups (BRGs)
Everything you read about ERGs above still applies to BRGs. However, you may find that BRGs tend to have a much more explicit focus on business objectives in addition to stated goals around diversity, equity, inclusion and belonging (DEIB). It wouldn't be too radical to think of BRGs as an "ERG+" in some ways, but you likely don't need to go that route. More often than not, they're treated the same as an ERG by participants.
The differences between ERGs and BRGs typically matter more to company leaders. Resource groups are often negatively perceived by some company leaders as social clubs that don't add value. The belief that resource groups don't have a positive outcome on a company's bottom line is undoubtedly why some HR leaders decide to put a business spin on them.
Consequently, BRGs may be charged with tasks like helping the company reach new markets, develop products or services, or address business challenges. BRGs may comprise employees from various backgrounds who share a common business interest, not necessarily a personal or demographic characteristic like ERGs.
Nevertheless, you will almost always find companies using the term "ERG" offering the types of groups focused on career-level affinities. And you'll have companies with BRGs that offer groups around DEI-level affinities. For all intents and purposes, ERGs and BRGs often end up operating the same across the organizations where they exist, even if the naming conventions and internal marketing differ.
Which Resource Group Name Is More Common?
There are two routes you may want to take when coming up with a name for your resource/affinity groups.
You can be creative and come up with something totally unique to your company.

You can follow the crowd and go with one of the more common naming conventions (e.g., ERG or BRG)
That, of course, raises a legitimate question from many HR leaders: What are my peers doing?
Our research indicates that "ERG" is the #1 most-used term among companies. Based on our review of Fair360's DiversityInc Top 50 companies, ERG is the favored term used by 36% of companies on that list. BRG is also exceptionally popular, however, with 32% of companies choosing to use that term.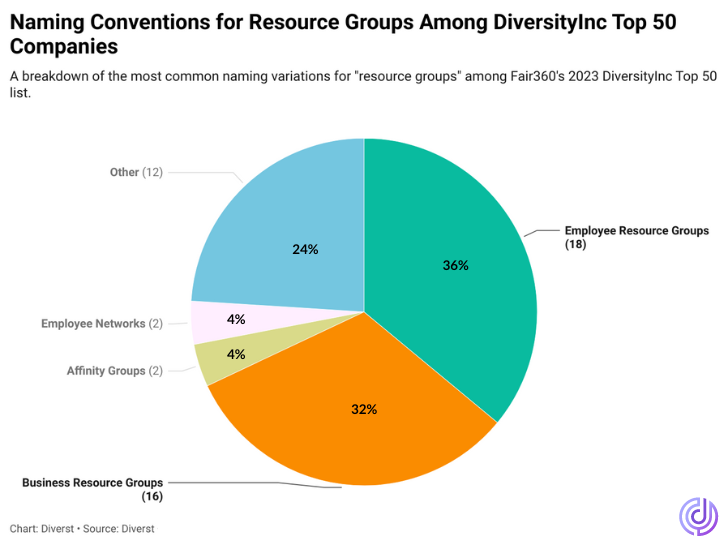 As noted in the chart, of the 50 companies listed on the 2023 DiverstyInc Top 50 list, 18 of them opted for the term "Employee Resource Groups," while 16 chose to go with "Business Resource Groups." All other naming conventions for resource groups were exceptionally uncommon, even "Affinity Groups" and "Employee Networks," both of which were only used by two companies on the list.
Now you may be wondering about that last "Other" chunk of companies filling out the remaining 24%. What kind of naming conventions are hidden within? Here's a handy list of what's in the remaining 24 and the companies who opted for those names: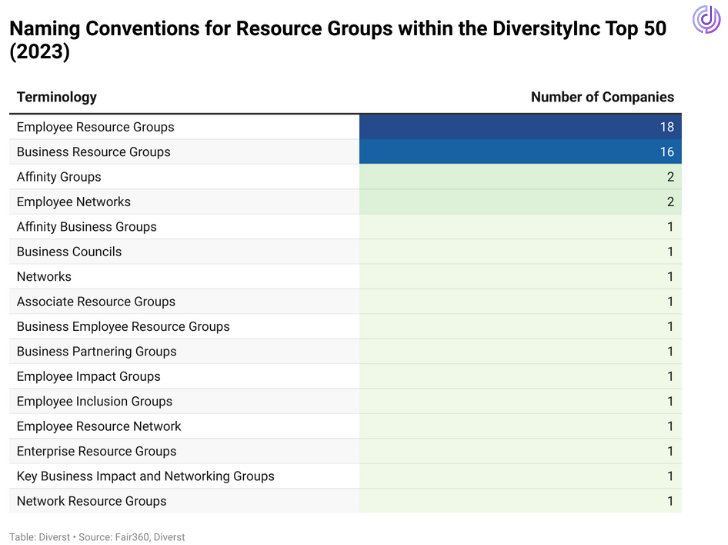 Note that, outside of ERGs and BRGs, some variation of "Network" is exceptionally common. That's because companies often want to emphasize the networking element that exists within resource groups. The ability to connect with other professionals at one's organization and create a large network is fundamental to career development and building a strong workplace culture. Other key terms, such as "Impact" and "Inclusion," significantly denote the purpose of those groups to the wider organization.
Forget ERG vs BRG: Are There Alternatives?
If you're here, it's likely that you're trying to decide on what name to use for your resource group. The above section should give you some good direction of where to start. But you might still be wondering what direction to take. That depends on many different factors. While opting for ERG or BRG is the safest route, as you can see from our chart above, there are other naming conventions that could work and use a bit of creative flair.
What could work for you? Ask yourself the following questions before picking a name:
What is the primary goal of your resource groups? Consider what you want to get out of launching ERGs at your company. Are you laser-focused on promoting DEIB? Or, do you have explicit business objectives in mind, such as boosting employee retention, engagement, and productivity? Your overarching goal will ultimately help you determine if you will use words like "inclusion" or "business" in your naming convention.
What types of groups will you offer? We recommend you check out our post on the most common types of ERGs. If you plan to offer those common types, this may dictate your naming strategy for your resource groups. If you plan to expand beyond those, you may want to consider a naming convention that's more suited to your experimental or trendsetting goals.
How does the proposed name align with your company's culture and values? Quite likely, your company already has an identifiable culture and values. Your resource groups should align with that. With that in mind, what you name them should align with your culture and values. E.g., does it reflect the language and terminology commonly used within your organization?
What is the potential for the name to be inclusive and welcoming? This is a big one, so think hard about it. Resource or affinity group participation is almost universally voluntary. That means you need to be able to convince people to join with clever marketing. That starts with the naming convention. If the name is offputting, weird, ambiguous, or even potentially alienating, you could lose people's interest immediately. Could any potential members feel excluded or uncomfortable based on the name?
Additionally, the name you pick for your resource groups is not something you have to take to your grave. If you find that the name you've run with doesn't seem to be having the appeal you thought it would, don't be afraid to rebrand.
I've Picked a Resource Group Name. Now What?
Hopefully, this post has given you just the right inspiration to pick a name for your resource groups or affinity groups. Looking at the data, you may decide to go with Employee Resource Groups or Business Resource Groups, and there's no harm in that. Most of your peer organizations have gone that route to great success. But if you have an organizational culture that eschews the norm, something a bit more creative may be in the cards. That's great too!
The most important thing to remember is that resource groups should be more than just a name. Whatever name you pick, make sure that your groups are robust enough to live up to that name. Effective resource groups are built on powerful software that makes them work effectively. What does that look like in practice?
Go ahead and request a demo of our leading resource group software to find out!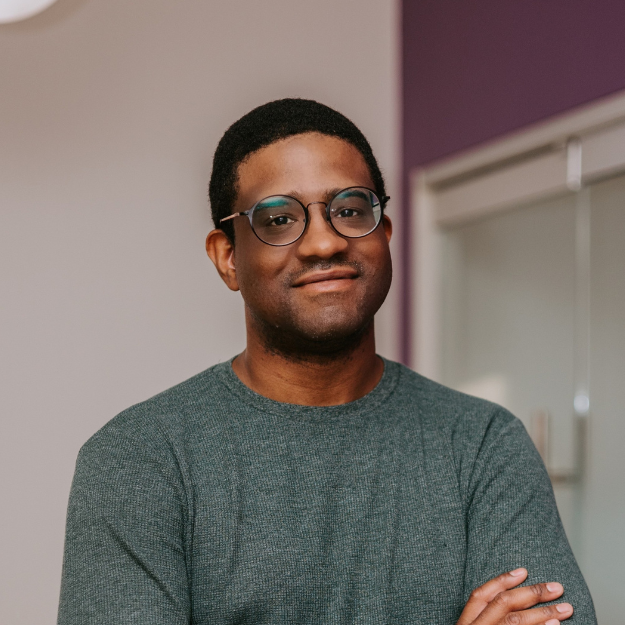 SAM COOK
Sam Cook is the SEO and Content Manager for MentorcliQ and a former high school teacher who spent nearly a decade mentoring students and new teachers, both formally and informally. He combines his successful second-life career as a writer with his experience as an educator and mentor to help demystify people-led employee engagement, development, and retention strategies.